Curiosity killed the cat, they say. In this case, curiosity ended up creating a hybrid. A zebra at the Chyulu Hills National Park in Kenya was recently spotted with an unusual looking foal by her side. Sure, it had stripes like its mama, but those stripes did not cover her body completely, reports CNN. This immediately caught the attention of the hardworking caregivers at Sheldrick Wildlife Trust, an animal rescue and rehabilitation organization that decided to take a closer look at the foal and her unusual features. Boy, were they surprised to find the reason behind her uniqueness. After close examination, they were excited to discover that the foal was no ordinary zebra. In fact, it was an amalgamation of a zebra and a donkey.
Now, the foal is lovingly known as a Zonkey. "Working with wildlife, one learns to expect the unexpected," the rescue group said in a news release on Wednesday. "Even the most seemingly straightforward story can eventually reveal its true stripes and end up surprising us all." Apparently, mama zebra ventured out of the Tsavo East National Park and into a community bordering the park last May. "She made herself right at home there, becoming an honorary member of a local woman's cattle herd. This situation continued for many weeks." Soon, the story was out on local media and the team was asked to transport her back to a secure area.
"At this point, the zebra had become fairly habituated to community life, so we had to choose her new home with that in mind. We settled on our Kenze Anti-Poaching Team's base in Chyulu National Park, so they could keep a close eye on her while she settled into her new home." Soon enough, they spotted her with a foal by her side. Since zebra pregnancies last 12 months, the team was quickly able to figure out how it all happened. During her time with the cattle herd last year, she had "obviously become acquainted with an amorous donkey," the news release said. "While zebra foals are born with white and brown stripes that eventually turn black, this little one's body was suspiciously light on stripes and overwhelmingly tawny in color."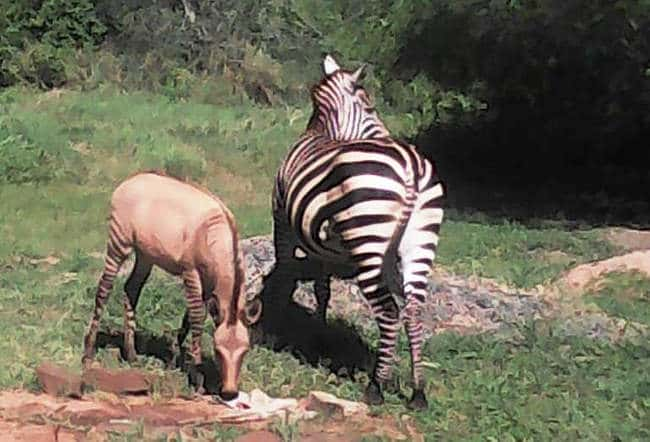 "At first, we thought that it had just been wallowing in the mud bath, but then the truth dawned on us." How amazing! "The zonkey combines the sturdy body of its donkey sire and the striped legs of its zebra mother, which makes for a striking creature. While it should otherwise lead a normal life, zonkeys are mules, meaning that it will be unable to successfully breed once it reaches maturity." They also mentioned that the mum and baby are doing great in their new habitat, which isn't swarmed with predators and has enough food and water to keep them happy, and that for now, they are content, as they graze side-by-side.