NASA Just Released Breathtaking Pictures Of Jupiter, The Solar System's Largest Planet
Take a look at Jupiter like never before.
Source: NASA
Science and technology allow humans as a species to learn about the universe like never before. Recently, The National Aeronautics and Space Administration (NASA) released the brand new images of Jupiter from an ongoing mission. NASA's Juno successfully entered the orbit of Jupiter on July 4, 2016. It was launched on August 5, 2011. According to NASA, Juno's primary goal is to reveal the story of Jupiter's formation and evolution. Using long-proven technologies on a spinning spacecraft placed in an elliptical polar orbit, Juno will observe Jupiter's gravity and magnetic fields, atmospheric dynamics and composition, and evolution. The mission is due to end by July 2021, and hopefully, the scientists will have a better understanding of the solar system's largest planet. Here are some of the amazing pictures:
1. NASA's Juno spacecraft captured this view of a chaotic, stormy area of the planet's northern hemisphere known as a folded filamentary region.
2. Appearing in the scene are several bright-white "pop-up" clouds as well as an anticyclonic storm, known as a white oval.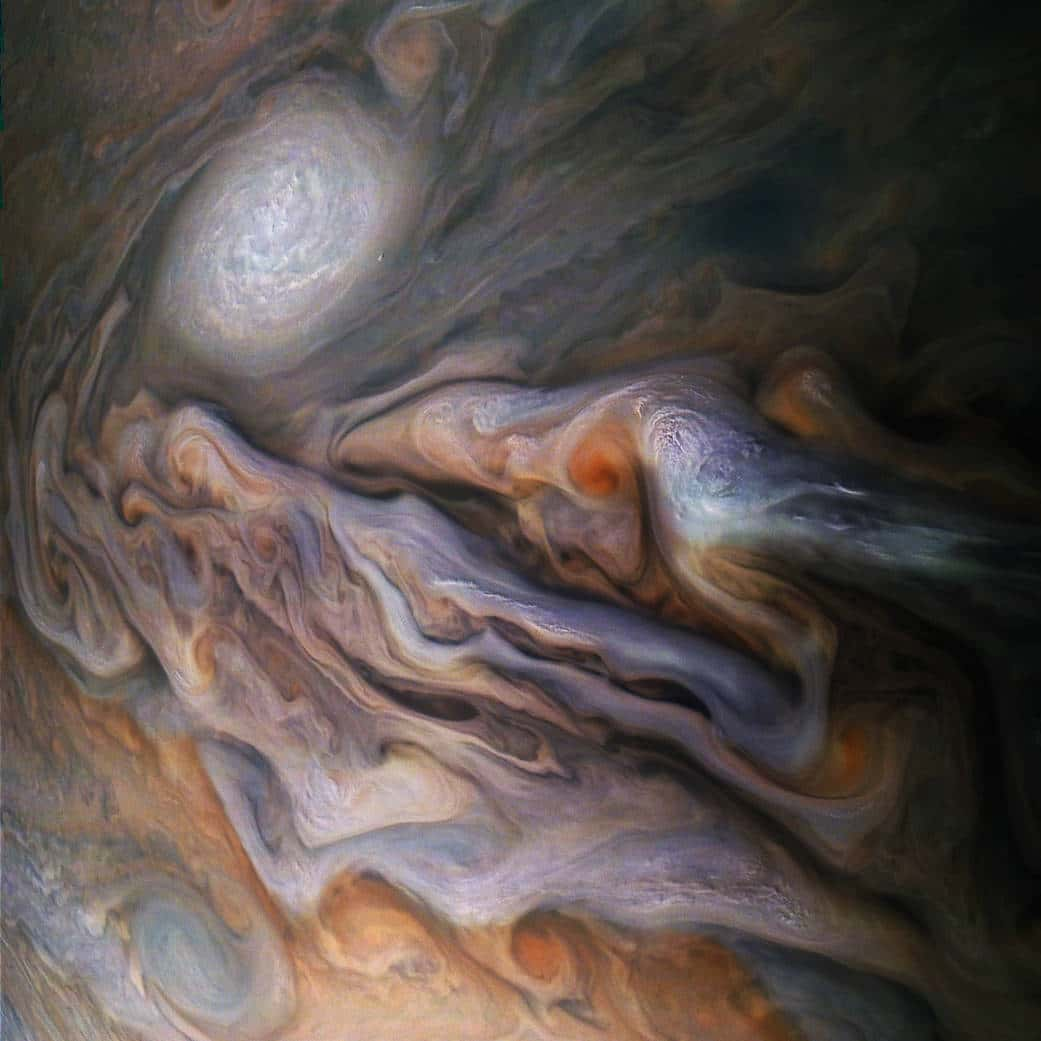 3. This stunning compilation image of Jupiter's stormy northern hemisphere was captured by NASA's Juno spacecraft as it performed a close pass of the gas giant planet.
4. Here, you can see the contrast between the colorful South Equatorial Belt and the mostly white Southern Tropical Zone, a latitude that also features Jupiter's most famous phenomenon, the persistent, anticyclonic storm known as the Great Red Spot.
5. Jupiter's volcanically active moon Io casts its shadow on the planet in this dramatic image.
6. In the final minutes of a recent close flyby of Jupiter, NASA's Juno spacecraft captured a departing view of the planet's swirling southern hemisphere.
7. Intricate swirls in Jupiter's volatile northern hemisphere are captured in this color-enhanced image.
8. This image has captured a high-altitude cloud formation surrounded by swirling patterns in the atmosphere of Jupiter's North North Temperate Belt region.
9. This extraordinary view of Jupiter was captured by NASA's Juno spacecraft on the outbound leg of its 12th close flyby of the gas giant planet.
10. This view of Jupiter's atmosphere from NASA's Juno spacecraft includes something remarkable: two storms caught in the act of merging.
11. Thick white clouds are present in this JunoCam image of Jupiter's equatorial zone.
12. This image captures massive cyclones near Jupiter's south pole, as well as the chaotic clouds of the folded filamentary region.