Most of us have the habit of biting our nails or pulling at the dead skin around our nails when we're either bored or anxious. It tends to calm us down, but it actually does more harm than good, and 18-year-old Lauren Nichols from Texas can attest to that, reports Daily Mail. College student Nichols warned her Tik Tok viewers to stop biting their nails because she nearly had to have her fingertip amputated because she contracted a skin infection from biting her nails. In a series of photos, she revealed what happened to her. She captioned her video: "plz watch... it could save your finger's life". To my fellow nail biters, stop what you're doing. I almost had to get the tip of my finger amputated because I bite my nails, she said at the beginning of the video, which has been viewed 9.2 million times since it was posted.
Explaining her ordeal, she said that on the morning of January 8, she had noticed a green spot around her cuticle, which she initially dismissed as a bruise. However, the following day, she consulted a doctor before heading to college who told her she had paronychia or a cuticle infection. For this, she was prescribed antibiotics.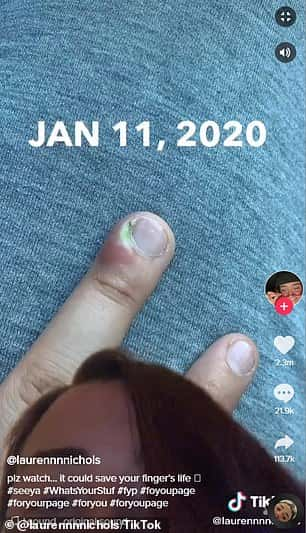 But that treatment wasn't working for her. She said, On January 10, it was a lot more swollen and more red and the green part had expanded, so my antibiotics weren't working. Deciding to take matters into her own hands, she turned to YouTube videos and popped the swelling herself on January 13. After that, she visited the doctor again, who informed her that she required surgery, a therapeutic washout to remove the infection, whilst sharing a photo of her finger wrapped post-op.
I dead a** almost had to have my fingertip amputated because I bite my nails, she stressed at the end of the clip. I really do be vibing though. Nichols' video warning others of the danger of biting one's nails received more than 2.3 million likes and nearly 22,000 comments since it was posted.
\
She told Buzzfeed News that the doctor, "told me that he has to amputate the tips of people's fingers because the infection gets too bad and that I'm lucky I came when I did." Nichols is not the only one to have had paronychia. Daily Mail reports that 48-year-old Steven MacDonald from Scotland suffered a similar fate. He too was a habitual nail biter. His finger swelled and was filled with pus, and also had a rash. Unlike Nichols, his infection had spread to his bloodstream, which made it life-threatening. MacDonald was given a dose of antibiotics and sent in for emergency surgery to remove the infection. Had he waited any longer, he may not have survived. He said, "This ordeal has taught me a huge lesson. To any nail biters out there, please just pull your finger away from your teeth."